WINEGROWING
The Niagara Peninsula
The geologic history of the Niagara Peninsula is the foundation of our region's finest wines. The forces of sun, wind and water, combined with the passage of time, formed the area's ancient bedrock more than 450 million years ago. Deposited by continental ice drifts over the past 100,000 years, our glacial till soils are unique in the winegrowing world. A complex blend of local sedimentary stone and metamorphic rock from the world-renowned Canadian Shield, these soils help define the distinctive character of Cave Spring wines.
Year round, seasonal air currents from nearby Lake Ontario move inland toward the peninsula's Niagara Escarpment, which rises sharply above the lake along its southern shoreline. The escarpment creates a natural buffer containing these moderated lake-effect breezes within a narrow band of the Niagara Peninsula. Located in the heart of the world's wine belt at 43° latitude, this area has emerged as one of North America's most unique and exciting wine regions.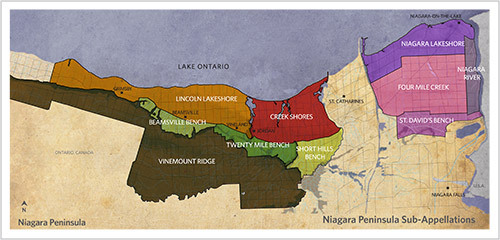 Winegrowing
Great wines come from great vineyards. As winegrowers, our goal is to honor the rich, expressive character of our vineyards, and to craft wines that capture the essential essence—the terroir—that defines our land.
To achieve this goal, we apply meticulous viticultural practices to ensure overall vine health, full, flavourful ripening and exceptional fruit quality. These techniques are tailored to individual grape varietals and vineyard blocks, and include such practices as higher density planting and deep soil tillage, which are utilized to encourage root penetration and mineral uptake by the vines. On the trellis, vertical shoot positioning, leaf removal and cluster thinning serve to concentrate both the extract and the flavours in the berries. Finally, we selectively hand-harvest at the ideal moment of ripeness so that our wines embody the richness, depth and sophistication that have become the hallmarks of fruit from Cave Spring Vineyard.
Because we believe that there is no substitute for experience and attention to detail, more than 80 percent of the grapes we use to craft our acclaimed portfolio of wines originate from our estate and family-owned vineyards.