FAMILY HISTORY
The history of the Pennachetti family in the Niagara region began in the early 1920s when Giuseppe Pennachetti emigrated from his hometown in Fermo, Italy, to work as a mason building Niagara's Welland Canal. After establishing a successful concrete business along with his sons, Giuseppe retired and proceeded to explore a passion from his days as a young man in Italy—winegrowing. On lands of modest quality and with the native labrusca grape (a variety that was the order of the day), Giuseppe would prune and tie his hobby vineyard with his son John Sr. and grandson Leonard. The wines that came from these vines were made with heart, but wanting in quality, and the family knew that better was possible.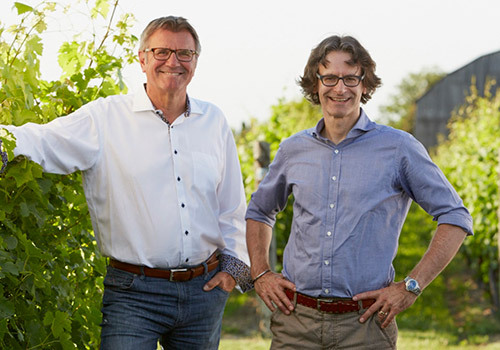 This early experience inspired a lasting love of viticulture in both John Sr. and Len, and in 1973 the Pennachetti family acquired its first farmland at Cave Spring on Niagara's Beamsville Bench. To realize the region's full viticultural promise, they focused on planting time-honored European grape varietals, and cultivating these vines with a mixture of traditional and modern techniques. In 1978, the Pennachettis were among the first to plant Riesling and Chardonnay vines on the Niagara Peninsula, helping to pioneer this emerging North American wine region.
In 1981, recognizing his passion for Niagara's promising wine industry, Len built a house on the vineyard. "I saw a chance for getting back to the land and creating a place where our family could do something special," says Len. "Vineyards exist from generation to generation. The way they grow and evolve reflects all the energy and commitment you put into them. What better family business could there be?"
Five years later, Len and the Pennachetti family took the next step, partnering with winemaker Angelo Pavan to found Cave Spring Vineyard in the picturesque village of Jordan. A true family business, Len is joined by his wife Helen, as well as his brothers John Jr. and Tom. John is active in the business planning side of the winery, while Tom, along with his wife Anne (of the Weis family, owners of the famed St. Urbans-Hof winery in Germany's Mosel Valley) directs the winery's sales and marketing activities.
Guided by Len and the Pennachetti family, and built on three generations of winemaking tradition in the region, Cave Spring is respected as one of the foremost producers of Riesling in North America, and is widely recognized as one of Canada's finest wineries.
Listen in to find out more about the history of Cave Spring Cellars through an interview with Len Pennachetti, Co-Founder and President. Len spoke with Mary Ito on CBC Radio on Aug. 6, 2011 about Cave Spring's 25th anniversary and the family's long standing involvement in the Ontario wine industry.